Milton Keynes' neonatal unit to get more cots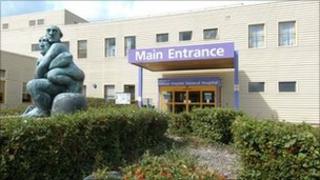 Three additional cots will soon be added to the neonatal unit at Milton Keynes Hospital after its Little Lives Appeal reached an important milestone.
Phase One of the unit's redevelopment has started, after the public donated £170,000.
The hospital's neonatal unit cares for more than 350 premature and sick babies every year.
The first changes will create space for the extra cots and the existing area will be updated and redecorated.
With an increasing population and associated demand for the hospital's services, the unit needed extra cots and extra space for them.
According to the Milton Keynes intelligence Observatory, the population of Milton Keynes is estimated to have grown by 35% between 1991 and 2010 and is projected to grow a further 15% by 2019.
The Little Lives Appeal was launched in 2007 to raise the funds for the work to be done.
Extra cots
The unit currently houses 18 cots and the hospital has calculated that in the past two years more than 30 babies have had to be transferred to other hospitals.
The hospital is in the South Central Neonatal Network, so initially staff approach places such as the Royal Berkshire in Reading, Stoke Mandeville and the Radcliffe Hospital in Oxford to take babies that cannot be accommodated in Milton Keynes.
But they could be sent as far afield as Southampton and Portsmouth.
The refurbishment will mean that the unit in Milton Keynes can accommodate 21 cots.
Glenda Deacon, Neonatal Unit Manager, is delighted that work has started and said it would "make a huge difference".
"We expect the work to finish in six weeks time, which will mean we are fully prepared for the busy summer period," she said.
"It will mean we can offer the best service possible to vulnerable babies in Milton Keynes."
Fundraising Manager Vanessa Bootle said that reaching the milestone was an "amazing morale boost".
"Every penny of the £170,000 raised is to be invested in this refurbishment, which could not have been achieved without the hard work, dedication and generosity of people in and around Milton Keynes," she said.
The Little Lives Appeal has £80,000 left to raise to fund Phase Two which will include redeveloping parents' areas, including bedrooms and showers, as well as fitting facilities for disabled visitors.