Treasures from Trash recycling exhibition in Luton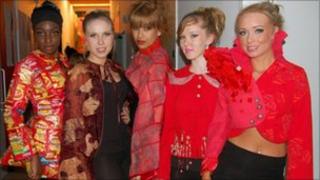 An exhibition of creative recycling from around the world has opened in Bedfordshire.
Treasures from Trash at Stockwood Discovery Centre in Luton, includes buckets made from tyres and handbags made of recycled licence plates.
Organisers hope visitors will be inspired by the exhibits showing the unusual use of common waste materials.
"Each object in the exhibition was once something else," said Karen Perkins, director of museums at Luton Culture.
"It proves just how resourceful and inventive we can all be by making use of common waste materials," she said.
'Red and Recycled'
The exhibition also features work by fashion and textile students from Barnfield College in the town.
Inspired by the theme of recycling and entitled 'Red and Recycled', the student's exhibits use the colour red and include a jacket made from crisp packets and others embellished with playing cards, Lego, broken brake lights and discarded computer hardware.
"The students found the 'Red and Recycled' brief very challenging but also very rewarding and have really enjoyed working on the collection," said course team leader Debbie Bishop.
The exhibition runs until 25 September at Stockwood Discovery Centre, London Road, Luton. Admission is free.