Rhythms of the World sound levels to be increased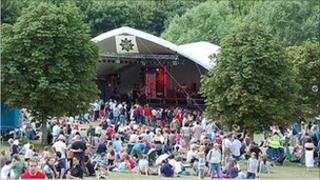 North Herts District Council has agreed to an increase in sound levels at a Hertfordshire music festival.
Organisers of Hitchin's Rhythms of the World festival applied for the increase, from 65dB to 75dB, arguing that the current level was too low.
Over 100 residents signed a petition against the move, while about 900 signed up in favour of the increase.
Gill Hannington, chair of the festival trustees, says the council has made the right decision.
"The previous sound levels inflicted on us meant we weren't able to accommodate some artists at the festival," she said.
"Now Rhythms of the World will be even more enjoyable for the performers who come from across the UK and around the world, the hundreds of volunteers who run the event and the thousands of people who attend it.
"We always endeavour to run a safe and enjoyable festival for all and recognise some people are inconvenienced by the activities over the weekend, but believe this is far outweighed by the thousands of people who come to Hitchin each July to enjoy the event," said Ms Hannington.
Rhythms of the World takes place on Saturday 9 and Sunday 10 July at Hitchin Priory.