Wormeries installed at First Capital Connect stations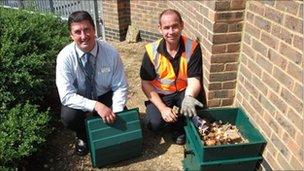 First Capital Connect has introduced 10 wormeries across its rail network, to help dispose of food waste left by passengers.
The odourless wormeries are being trialled at 10 stations across Bedfordshire and Hertfordshire.
Food waste left in the containers is consumed by the worms and turned into a bio-rich compost and concentrated liquid feed.
The fertiliser will then be used to feed plants and trees at the stations.
"As much as one third of the contents of the average dustbin could be turned into compost," said Keith Jipps, head of customer services.
"A lot of this waste is left at our stations and we believe a wormery to be an ideal and environmentally friendly solution for the disposal of this waste."
The stations taking part in the trial are Bedford, Flitwick, Harlington, Luton, Luton Airport Parkway, Hatfield, Potters Bar, Huntingdon, Letchworth and Hitchin.
Related Internet Links
The BBC is not responsible for the content of external sites.