Investigation into Milton Keynes chemical incident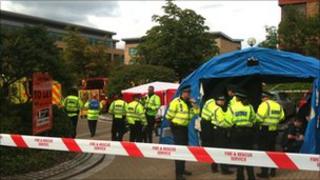 An investigation is continuing into the cause of a chemical incident in Central Milton Keynes on Wednesday afternoon.
Staff working inside the Inland Revenue building in Sibury Boulevard reported a strange smell and several people developed breathing difficulties.
The building was evacuated at about 1330 BST and a cordon put in place around it.
Specialist fire crews carried out a full search of the building but did not find any harmful substances.