Baldock splash park plans unveiled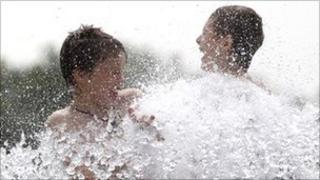 Plans for a new childrens water park in Hertfordshire have been unveiled.
The splash park in Baldock is part of a government-funded project to renovate the play facilities at Avenue Park and will replace the existing paddling pool.
The new attraction will include a spray cannon, water jets, an "unpredictable" bucket game and a water tunnel.
North Hertfordshire District Council said the plans were agreed after consultation with local residents.
"We already have some great parks and open spaces in North Herts but the new water park is guaranteed to become a favourite destination for children of all ages," said Councillor Ian Knighton.
"The renovated play area at Avenue Park is an example of a project that has involved the whole community, and we are proud of the end result."
Other new play equipment at the park includes a sand play unit, cradle swings, climbing tower and timber trail.
Work on the splash park is due to be completed by summer 2012.