Bletchley Park to remember Tony Sale at Armed Forces Weekend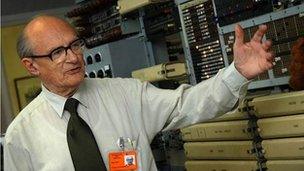 Veteran codebreakers will return to Bletchley Park this weekend for the annual Armed Forces Weekend and Enigma Reunion.
The two-day event will also remember Tony Sale, the National Museum of Computing founder, who died this week.
Mr Sale was the mastermind behind the re-building of Colossus, the world's first operational computer.
"Tony was one of our best known characters," said Bletchley Park Trust director Simon Greenish.
"His contribution to the early days of the development of the trust, when the site was under very real threat of development, was fundamental and, without him, the Bletchley Park site and its hugely important history would not have survived."
The event, which is open to the public, will look back at the role of the armed forces through history and the vital role Bletchley Park's codebreakers played during World War II.
About 100 former codebreakers are expected to attend the reunion, which will include a memorial service on Sunday.
"A lot of our veterans who knew Tony personally, and indeed his wife, Margaret, will be attending the memorial service where we remember those who worked here at Bletchley Park, so tributes to Tony will certainly feature in that service," said Mr Greenish.
Other attractions will include a field gun run competition and a display by the Vintage Military Amateur Radio Society of radio equipment spanning the last 100 years, showing how communication in the armed forces has changed over time and become more vital.
World War II re-enactors dressed in uniforms and civilian costumes of the day will reflect the wartime era.
The weekend will also include flypasts by the Battle of Britain Memorial Flight (subject to weather conditions and aircraft serviceability).
Related Internet Links
The BBC is not responsible for the content of external sites.