Shakespeare at St Paul's Walden Bury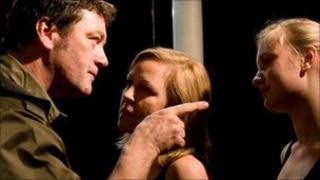 The Queen Mother's birthplace is throwing open its doors to Shakespeare over the August Bank Holiday.
An open air promenade production of Macbeth will be presented by the OVO Theatre Company at St Paul's Walden Bury, Hertfordshire.
The modern interpretation of the tragedy was first seen in July at the company's studio venue in St Albans.
Now the Grade I listed garden will act as the stage as the audience follows the action around the 50-acre estate.
The production provides a rare opportunity for the public to visit the Bury, the birthplace and childhood home of Queen Elizabeth the Queen Mother.
The play's director Adam Nichols said: "They don't open the gardens very often so it's quite nice that it's kept as it was and not overdeveloped.
"It's beautiful and it feels so special being there when there haven't been hordes of people traipsing through it during the day. Some people will be intrigued just to see the place."
'Significant change'
Mr Nichols also revealed how "re-directing" the show for the open air after its showing at the intimate Pudding Lane theatre in St Albans has been quite a task.
"It's fundamentally the same production but obviously taking it from a tiny 40 seat studio to a huge, amazing country estate is quite a significant change," he said.
"We tried as much as possible to direct the original so that it was transferable but the nature of the whole thing is bigger and the style of acting is more expansive.
"We try and get the audience to move so they are part of the action and not disjointed.
"Without giving too much away, the audience are part of what is happening but without having to do anything - it's not a panto."
Despite the unpredictable summer weather, Mr Nichols is not worried about the production being open to the elements.
"No-one will mind a few spots of rain for this play as it adds to the atmosphere," said Mr Nichols.
"I think our perfect weather conditions would be overcast, dry and mild."
Macbeth can be seen at St Paul's Walden Bury from 26-28 August 2011 at 19:30 BST with a Saturday matinee at 15:00 BST.
All proceeds will be going to St Paul's Walden church.