EDL founder Stephen Lennon fails in appeal over Luton brawl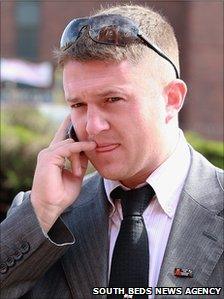 The founder of the English Defence League has lost an appeal against his conviction for leading a brawl involving 100 football fans.
Stephen Lennon, 28, led Luton Town supporters as they clashed with Newport County fans in Luton, the town's crown court heard.
Lennon, from Luton, was convicted in July of using threatening, abusive or insulting behaviour in August 2010.
His claim that he was not in the group was dismissed by a High Court judge.
A confrontation began ahead of the evening game on 24 August when Newport supporters made a mass exodus from the Bedfordshire Yeoman pub just as 50 Luton fans approached.
The trouble involved chanting, missiles being thrown, assaults and damage to property, the court heard.
Lennon was at the front of the group, with others looking to him for leadership, and it is alleged he was chanting "E ...E...EDL" the court was told.
Lennon told Mr Justice Saunders: "I was not with the group. There was a lot of shouting and screaming and some fighting but it looked more like 'handbags' to me."
He claimed it had all been about England and Wales and that, while he may have made "sheep" insults, he had never mentioned EDL.
"It is ridiculous to suggest that, it is just not relevant."
In dismissing the appeal Mr Justice Saunders said: "It must have been a very confusing scene and we are not making any detailed finding on exactly what happened and whether he was the leader of the group or not.
"We are not saying whether he was shouting about the EDL but on his own admission he was shouting something which was intended to be insulting to the Welsh and he was waving his arms about.
"It is impossible to accept any other intention than to provoke them into fighting.
"It must have been a frightening scene for anyone to observe."
Luton magistrates had sentenced Lennon to a 12-month community rehabilitation order, a three-year ban from football and ordered him to carry out 150 hours of unpaid work.
Lennon is due to be sentenced in November for an assault on an EDL member at Blackburn, Lancashire, in April.
Related Internet Links
The BBC is not responsible for the content of external sites.