Conservative MPs record children's stories for charity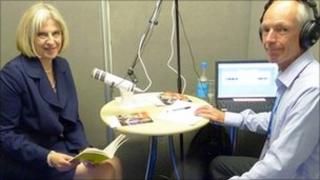 MPs have occasionally been accused of telling tales but, thanks to a Buckinghamshire charity, they have now done it for a good cause.
Prime Minister David Cameron and Home Secretary Theresa May have joined more than 80 Conservative MPs to record stories for visually impaired children.
They volunteered their time as part of a social action project at the party's annual conference in association with Aylesbury-based Calibre Audio Library.
The nationwide audio book service for visually impaired people has turned these recordings into two audio books, which are now available for their users to borrow.
The charity was set up in 1974 and currently has nearly 20,000 members across the UK, who have sight problems or other disabilities which prevent them from reading books.
'The Worm Hunt'
It has 38 full-time equivalent staff but more than 200 volunteers, including 70 readers, who help to produce and despatch about 1,800 recordings a day and deal with the same number which are returned on a daily basis.
Calibre was invited to be the lead charity at the 2011 Conservative Party Conference, in the party's Social Action volunteering project, an annual scheme at the event which delegates can get involved with.
The charity recorded 340 short stories over the four-day conference in Manchester in October, using the voices of MPs and other attendees including the prime minister's wife Samantha Cameron, local councillors and journalists.
The two books, called Funny Stories for Eight-Year-Olds and Funny Stories for Seven-Year-Olds, include the Prime Minister reading "Hamish Goes Swimming", the Home Secretary reading "The Worm Hunt" and Foreign Secretary William Hague reading "The Stowaway".
Other MPs who took part included Education Secretary Michael Gove, Defence Secretary Phillip Hammond and some MPs whose constituencies are close to the charity's headquarters including Andrew Selous, who represents South Bedfordshire, and David Lidington, MP for Aylesbury.
Mr Lidington said he had visited Calibre, which is based in his constituency, several times and he hoped his recording would be "listened to again and again".
"They do a fantastic job in giving people who are blind or partially-sighted access to the richness and diversity of books," he said.
There is no charge for Calibre's members to borrow the books but they will also be on sale to the general public in order to raise funds.
Well prepared
Charity director Michael Lewington said it had been "delighted" to be asked to take part and hoped it had raised the charity's national profile.
He revealed MPs had been "absolutely" keen to be involved and came well prepared.
"Most had clearly read the book beforehand and some had even made notes about the characters, just as you would expect a professional actor to do," he said.
"The standard of reading was excellent, ranging from character voices to talking as if they were reading to their own children."
Mr Lewington said while MPs had been pre-booked to read, it had to implement a booking system for other delegates as the project proved so popular.
"It had such an immediate tangible output that people thought it was an excellent project and we could have easily doubled our output, but there was a limit to what we could do in that period of time," he said.
"These recordings from the conference are a unique addition to our library of 8,000 book titles and monies raised from the sale will be used to support our much valued service."