Music photographers open rock art gallery in Bedford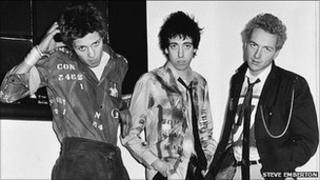 An art gallery dedicated to music photography spanning 50 years has opened in Bedford.
Rock City Art has been founded by UK music photographers Andy Willsher, Mick Hutson and Andy Fallon, who still shoot for publications such as Q Magazine, NME, Mojo, Classic Rock and Uncut.
Located in the Castle Lane area by the River Ouse, the monthly changing exhibitions will include images of musicians such as Miles Davis, Metallica, The Sex Pistols, The Rolling Stones, Marc Bolan and The Beatles.
The founders, who have persuaded other music photographers to display their work, said it would present "some of the most famous rock and roll images ever captured".
"We were lucky that by bizarre coincidence, we discovered that Steve Emberton who had taken classic pictures of Sid and Nancy and The Clash also lived in Bedford and he has donated shots," said Mr Willsher.
"We have also been able to persuade other legendary photographers to give shots to the opening exhibition.
"These include pictures of The Jam and Bob Marley by Ian Dickson and Fin Costello's alternative take of Japan's Tin Drum album cover."
'Natural progression'
Rock City Art was originally an online gallery that provided a showcase for the work of leading UK music photographers including Mr Willsher, who was born and bred in Bedford, and Mr Hutson, who recently moved to the town.
Andy Fallon ran the Music Photographer website, which gave help and advice to those starting out in the industry and the three men decided to join forces.
"It became a natural progression to create a gallery which would provide an exhibition space dedicated to music photography," said Mr Willsher.
"The gallery is in an area which the council are trying to develop as an artistic area, so it made sense to set it up in Bedford," said Mr Willsher.
The team are also dedicated to discovering previously unseen classic imagery from the music industry archives for their displays and the public will also have the opportunity to buy prints.
In 2012, the gallery will provide workshops and lectures including short photography courses and seminars by exhibiting photographers.