Luton city status bid prompts online petition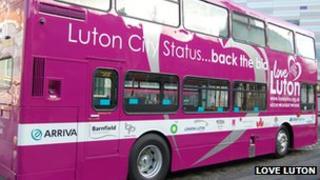 An online petition calling for Luton to be granted city status has been started by the Love Luton campaign group.
The honorary title will be granted to just one town as part of The Queen's Diamond Jubilee celebrations.
The group believes the e-petition will show the level of support the city bid has among local people.
"We want to send a strong message to the government that Luton deserves city status," said campaign chairman Linsey Frostick.
"City status would greatly help Luton in attracting increased inward investment, create new jobs and generate growth, making this an important honour for Luton to win."
Other towns competing for city status include Middlesbrough, Medway, Milton Keynes, Reading, Bolton, Swindon, Chelmsford, Stockport, Perth, Gateshead, Ballymena, Guildford, Southend-on-Sea, Ipswich, Wrexham, Croydon and St Austell.
The winning bid is expected to be announced in February.