Widower murdered at Luton home 'for his money'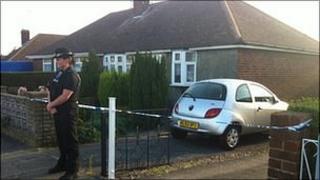 A pensioner was "murdered for his money" after being targeted by a man who had carried out work at his home, a court has heard.
Widower Fred Hodsdon, 69, was bound and beaten with a hammer at his home in Vespers Close, Luton, on 25 June last year.
Drug user David Clairmonte, 25, was desperate for cash having been refused a "pay-day loan", Luton Crown Court was told.
Mr Clairmonte denies murder.
After taking Mr Hodsdon's credit card and what he thought was its personal identification number (Pin) number, Mr Clairmonte is alleged to have left his victim lying face down on a sofa in a pool of blood.
House ransacked
A neighbour raised the alarm, jurors were told.
Stuart Trimmer, prosecuting, said: "This was a savage attack - there is no getting away from that."
He said the house had been ransacked, with drawers pulled out and emptied on the floor. Blood marks were on the floor, a radiator, a door frame and a wall.
The prosecutor said the evidence pointed to the defendant walking his victim around the house and attacking him.
Mr Trimmer added: "Frederick Hodsdon was killed for his money and this defendant was very short of money that day."
The jury were told Mr Hodsdon was a vulnerable man who lived on his own following the death of his wife.
In 2008, he had some work carried out to repair the roof of his detached garage.
Mr Clairmonte worked on the job with his father, the court heard.
The case continues.