West Bletchley mental health unit plan worries residents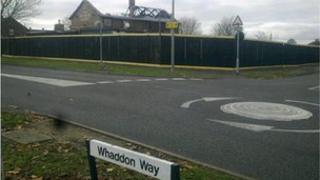 Proposals to convert a derelict pub into a mental health unit have been met with objections at a public meeting in Buckinghamshire.
People living near the former White Hart pub in West Bletchley believe plans for a 32-bedroom residential care home in Whaddon Way are inappropriate.
Councillor Elaine Wales attended the meeting on Monday and is working with residents to oppose the application.
"The problem is not the people using the centre but the location," she said.
"The proposed development is in a residential area, close to local schools.
"Whaddon Way is already one of the busiest roads in West Bletchley and the impact on traffic would be horrendous.
"People with mental health issues do have to have accommodation, and we understand that they need somewhere to be rehabilitated, but this is not a suitable location."
'Proven reputation'
The proposal comes from Cambian, one of the UK's largest providers of specialist services for people with learning difficulties or people needing mental health rehabilitation.
In a statement, the company said: "The Cambian Group has a trusted, proven reputation for the highest quality care for people with specialist mental health rehabilitation.
"The people that we will be caring for in this service will be UK residents, they will not have serious offending backgrounds or primary substance misuse diagnoses.
"We recognise that there are often anxieties raised by people's different attitudes towards, and knowledge of, mental health challenges.
"We know that a policy of openness and engagement with the communities that we hope to become part of is essential to building a long-term, successful relationship."
The application will be discussed by Milton Keynes Council on 16 February.