Pinewood Studios refused planning permission for £200m expansion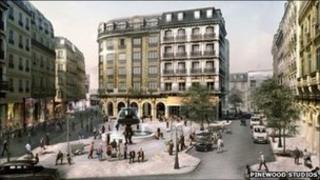 A £200m expansion plan for Pinewood Studios has been rejected.
Project Pinewood would have seen a 100-acre set built on land in Iver Heath, Buckinghamshire, next to the studios' current site.
The plans included building replicas of city centres including Paris, Venice and New York.
The Department for Communities and Local Government upheld a local council rejection, saying the project would be "inappropriate in the green belt".
In its decision to refuse outline planning permission, the secretary of state said "the proposal would amount to urban sprawl of the type the green belt is seeking to contain".
The department said the plans would compromise the purpose of the green belt to prevent the merger of neighbouring towns and encroachment into the countryside.
Pinewood took an appeal to the Department for Communities and Local Government last year following a decision by South Buckinghamshire District Council to reject the plans in 2009.
'Not just a nibble'
The company first announced plans in November 2007 for a development of permanent live-in film lots on land next to its current site.
Pinewood said it is not planning to appeal the decision.
The company said it was disappointed with the ruling and would review it in detail.
The plans have been opposed by people in the surrounding area who feared increased amounts of traffic and damage to the green belt.
The Stop Project Pinewood campaign claimed the scheme would take "not just a nibble but a huge great bite out of a precious local and national resource".
The studios, which have been operating for more than 70 years, were the location for Bond films including The Spy Who Loved Me, A View To A Kill and, more recently, Quantum Of Solace.
The site has also been used for blockbusters Mamma Mia! and Prince Of Persia: The Sands Of Time.