Hospital worker on sex charges took own life - coroner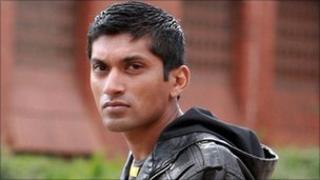 A hospital worker accused of sexually assaulting 14 male stroke patients suffocated himself after taking a drug overdose, an inquest has found.
Ameet Mohabeer, 28, worked as a healthcare assistant at the Luton and Dunstable Hospital in Bedfordshire.
The sexual assaults were alleged to have occurred while he was on duty at Ward 17, a specialist stroke ward.
Bedfordshire coroner David Morris said Mr Mohabeer "could not face the publicity and the proceedings".
In a letter shown to the coroner, Mr Mohabeer said he was not taking his own life because he was guilty.
At the time of his arrest, police set up a helpline for potential victims.
Hospital bosses had also contacted former stroke patients, asking them to come forward.
The inquest heard Mr Mohabeer was found dead at his home in Butely Road in Luton by a neighbour.
Mr Morris said the cause of death was suffocation with a secondary cause of an overdose with painkillers. He recorded a verdict that Mr Mohabeer took his own life.