Students create new pews for Buckinghamshire church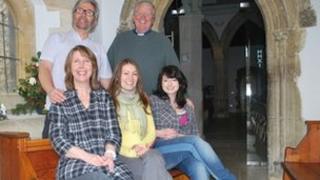 University students have successfully restored a 19th Century church pew and constructed another at a Buckinghamshire church.
St Mary's Church in Princes Risborough asked the students to carry out the work as part of a £1.4 million refurbishment project.
The students from Buckinghamshire New University used pine wood from three pews no longer needed by the church.
Reverend David Williams said the church greatly appreciated the students' help.
He added: "We are getting more and more people coming into the church and this is the first thing they see, which creates a really fantastic introduction."
The work was carried out by first-year students Amber Bailey, Dorothy Rayner, Ann Newbold and Jeff Day, with help from course leader, Paul Tear MBE.