RSPB appeals for public to join Big Garden Birdwatch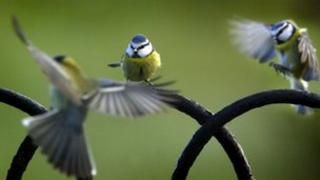 The RSPB is asking the public to take part in its Big Garden Birdwatch this weekend.
The information collected will allow the Bedfordshire-based wildlife charity to build up a nationwide picture of bird numbers.
The RSPB hopes the findings will also reveal the impact the unpredictable winter has had on garden birds.
"People could start to see some different activities," said project manager Sarah Houghton.
"With plenty of natural food still about, some of the usual suspects might be a bit elusive, but heavy rain and strong winds could send other surprises our way."
People can take part in the survey by picking an hour on Saturday or Sunday to record the birds they see, and feed their results back online.
'Important stocktake'
Ms Houghton urged the public to submit their results, even if the numbers of birds they see might seem low.
"We want to know what people see, whether it's a hundred birds or two birds, regardless of whether this is typical for their garden," she said.
Now in its 33rd year, the Big Garden Birdwatch provides the RSPB with a "snapshot" picture of garden bird numbers in each region of the country and can help highlight any worrying declines.
"With over half a million people sending us their data this will help us build an important stocktake of what's happening in gardens this year.
"We can then compare these counts with others from previous years and note any changes."