Watford Palace Theatre to stage Keatley world premiere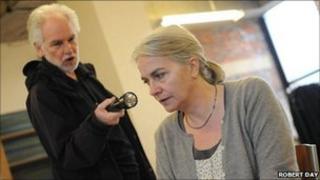 The director of a world premiere being staged at a Hertfordshire theatre has spoken of the "overwhelming responsibility" of presenting a play for the first time.
Brigid Larmour is artistic director of the Watford Palace Theatre, which is hosting the first showing of Charlotte Keatley's new play, Our Father, this month.
The award-winning author is a creative associate at the theatre and has been working with the venue for a couple of years to stage her latest work.
Ms Larmour said the whole company had been "very excited" about supporting the process.
"Everybody involved feels a sense of excitement and purpose helping something to be done for the first time," she said.
"And there is something very special about hearing an audience react to a play for the first time because in many ways a written play doesn't come alive until it is heard.
"We premiere productions in Watford because there seems to be an appetite [for it] from the audience and as a theatre we think it's important to support good new work."
'First interpretation'
Keatley's first mainstage play My Mother Said I Never Should, which dealt with love and jealousy between mothers and daughters, was first performed in 1987 and is named by the National Theatre as one of "The Significant plays of the 20th Century".
Ms Larmour has long been associated with the playwright, having directed both the original production of My Mother Said I Never Should when it premiered at the Contact Theatre in Manchester more than 20 years ago, and a revival of it at the Palace in 2009.
She admitted that when presenting a premiere, the responsibility to the writer to "deliver their vision" could be "overwhelming".
"You mustn't be distracted by a byway of your own, you have to decide what the author intends and translate it into a production," she said.
While the two have worked together closely on Keatley's latest play, the director said that the writer had allowed her the freedom to create her own production.
"It's the first interpretation so there's a real responsibility to present what the author has intended, but she doesn't seek to control every individual aspect," she said.
"It's like launching a ship, I have kept her informed, but she's not been in design meetings, she has to let us do that."
'Gripping story'
Our Father is described as a "gripping story of fear and forgiveness" and follows a young woman who returns to her parents' home on the eve of her 30th birthday.
"She has just split up with her boyfriend and is at a place where she has no home, no job, no man and no kids, so for her it is a moment of reflection," said Ms Larmour.
"She has a sense that everything she does is wrong and so she tries to work out why, and in doing so she uncovers family secrets.
"In the end the young woman speaks out and confronts issues which allows people to move on."
Our Father is on at the Watford Palace Theatre from 17 February to 3 March 2012.