Bedford bedsit rapist Graham Jones wanted to 'cleanse soul'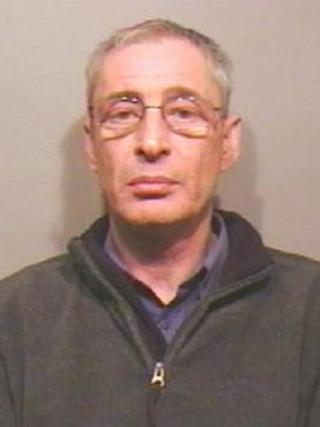 A rapist who confessed to his crime 28 years after attacking a woman in her own home, may have done so to "cleanse his soul', a detective believes.
In 1983, Graham Jones, then 22, broke into the student's bedsit in Bedford, bound her hands and raped her.
Years later, as a 50-year-old man, he walked into a police station with his wife and confessed his crime.
His confession sparked a cold-case investigation that led to his conviction.
Mick Flavin, a former inspector with Hertfordshire Police, was brought in to investigate Jones' claim.
"There was a lot going on in his life at the time and I believe he wanted to cleanse his soul," Mr Flavin said.
"His confession was very unusual but it posed a lot of questions."
Despite a police man hunt and press coverage at the time of the rape, Jones was never found.
But 29 years later, in January 2011, Jones walked into Greyfriars Police Station in Bedford and told the desk clerk about his crime.
'Horrible circumstances'
Jones told a police officer he had committed a rape some time between 1982 to 1983.
The only details he could provide were he thought the attack had taken place in the Lansdowne Road area of Bedford.
He then said nothing in interview with detectives.
"It was an unusual set of circumstances," said Mr Flavin, who helped set up the cold case review unit after his retirement from the force in 2006.
"People usually present their documents at the front desk. It was tantalising for us."
Mr Flavin and his team set about trawling through historical files, mainly manual records, dating back to the late 1970s, to try to pinpoint Jones' crime.
From the information Jones had given detectives, the attack on the student in her bedsit seemed to fit the profile.
"The Bedford bedsit rape seemed to come to the fore," Mr Flavin said. "There was quite a lot of coverage of it at the time.
"It was a horrible set of circumstances. This man attacked a total stranger in her room."
Mr Flavin and his team then revisited the original investigation for any forensic leads which had not been available to officers at the time.
'Extremely satisfying'
Using samples taken from the crime scene, scientists were able to rework the original evidence to provide a complete DNA profile of the attacker.
The profile meant the possibility of it not being Jones was one in a billion.
"It is extremely satisfying," Mr Flavin said. "It is not that there wasn't a thorough investigation at the time.
"We are not better than our counterparts 20 or 30 years ago, but we have got improvements in science.
"They didn't have the advantages we have now."
Jones pleaded guilty to the rape in November 2011.
Welcoming Jones' sentence, Mr Flavin said his victim had waited many years for justice to be done.
"I'm delighted we have managed to put Jones behind bars," Mr Flavin said. "He's clearly a danger to women.
"The ex-student had to wait for many years for the justice she deserves and without her help, and that of the other people who gave us statements, we would not have been able to take this case forward."