West Bletchley mental health unit plan agreed by council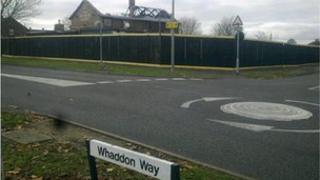 Proposals to convert a Buckinghamshire pub into a mental health unit have been approved, despite local opposition.
Milton Keynes Council has granted planning permission to turn the derelict White Hart pub in West Bletchley into a 32-bedroom care home.
It will cater for men aged between 18 and 65 in the later stages of treatment for depression and schizophrenia.
People living nearby had expressed fears about crime rising and inadequate parking provision.
Specialist service provider Cambian, which will manage the centre, said that it will be a locked residential unit and all patients will be vetted by medical professionals and regulatory bodies. Those classed as sex offenders, paedophiles or anyone with a history of serious offending will not be admitted, it added.
'Vulnerable people'
West Bletchley parish councillor Liz Campbell said the decision was "hugely disappointing" and that residents were not just worried for themselves, but also the patients.
"They are vulnerable people who can become a target of crime," she said. "We've seen it across Milton Keynes, where these sorts of vulnerable people are picked on, mugged and coerced out of money, it's not safe for them."
Concerns had also been raised about the site being on a busy road and that parking provision was inadequate.
Mick Legg, from West Bletchley Parish Council, said: "To say that people employed locally will walk to the site isn't feasible, so you will have an overspill of parking on to the public highway. This will be a disaster, this will be a major issue on this busy road."
Concerns addressed
Chair of the Milton Keynes Council's development control committee, councillor Chris Williams, said the plans were approved because all the planning conditions had been met, but that a condition that parking provision and traffic management were investigated further had been imposed.
"It will only go ahead if the traffic assessment meets the council's requirements," he said.
Mr Williams said the committee had been satisfied by a report from the council's crime advisory officer, who had addressed residents' concerns.
"The answers he gave were very cohesive about how Cambian had responded in other areas and the committee were convinced by his assessment that the fear of crime was real but the actuality of crime was not," he said.
The Cambian Group welcomed the council's decision and revealed that the redevelopment will be "sympathetic to the local area" and would create up to 70 jobs.
A spokesperson said: "We will continue to work locally to ensure that the stigma surrounding mental illness is addressed."
The unit is due to open in 2014.