Alan Turing exhibition opens at Bletchley Park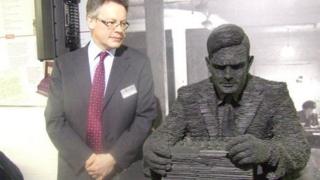 An exhibition depicting the life and work of codebreaker and mathematician Alan Turing has opened at Bletchley Park in Buckinghamshire.
Turing worked in teams which cracked the German Enigma code in World War II and created the world's first computer.
The collection at Bletchley Park includes rare mathematical papers and personal artefacts donated by the Turing family.
A spokesperson said the display "makes a complex subject accessible to all".
'Human side'
The Life and Works of Alan Turing exhibition was developed following a public campaign to save a rare collection of his mathematical papers for the nation, now known as the Turing-Newman Collaboration Collection.
Members of the public, plus the private and public sector, including search engine Google and the National Heritage Memorial Fund, collaborated to secure funding of more than £300,000 for the papers.
Members of the Turing family then came forward with some of the mathematician's personal belongings, which are on show to the public for the first time in this exhibition.
These include a teddy bear called Porgy which he used to practise his lectures on, a biography written by his mother, prize books awarded at school and his wristwatch.
His sporting prowess is highlighted by tankards awarded by King's College, Cambridge for his rowing, and a set of oars hand-painted with his name.
Iain Standen from the Bletchley Park Trust said the exhibition gave "long-awaited recognition to the short but brilliant life and legacy of Alan Turing, the father of computing".
Letter to mother
At the opening of the exhibition, his nephew Sir John Dermot Turing said it was important for the family that his human side was shown, as well as his mathematical achievements.
"What this exhibition does is bring together the very few remaining personal artefacts so that you can try and build up a bit more of a human life story to go along with the maths and the codebreaking," he said.
Other items on show include a copy of the 2009 government apology to Alan Turing for his treatment as a gay man.
There is also a letter written to his mother in 1975 telling her for the very first time about his "vital importance to the outcome of World War II" and his contribution to the development of the modern computer.