Howard Park £2.7m restoration project completed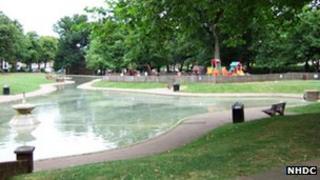 A £2.7m project to restore a Hertfordshire park has been completed.
Howard Park and Gardens in Letchworth first opened in 1911 as part of the garden city created by social reformer Sir Ebenezer Howard.
New features include an improved play area, toilets and new pedestrian routes through and around the park.
A 119-metre paddling pool and water feature are due to open later this year.
North Hertfordshire district councillor Ian Knighton said the project was "the culmination of years of planning and months of hard work".
"We now have an asset at the heart of the community of which we can all be really proud," he added.
The project, which was part-funded by an award of £1.84m from the Heritage Lottery Fund and Big Lottery Fund, includes the restoration of the adjacent Howard Gardens, which reopened to the public in 2011.
Robyn Llewellyn, head of Heritage Lottery Fund East of England, said: "This is wonderful news for everyone involved in Howard Park and Gardens.
"This much loved garden can once again take its place at the heart of Letchworth Garden City so that it can be enjoyed by people from across the community for many generations to come."
An event celebrating the official opening of the park will take place on 26 May.