Luton 'among best in England for business growth'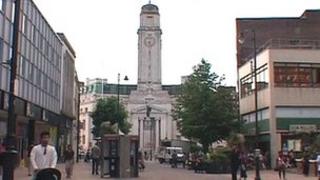 Luton is one of the strongest areas for business growth in England, research has shown.
The research by information analysts Experian, commissioned by the BBC, looked at growth and growth potential.
The number of new firms in Luton grew between 2010 and 2012 by an average of 4.2%, increasing from 9,354 to 10,139, the third highest in the country.
Bedfordshire and Luton Chamber of Commerce chairman Brian Hibbert said the research was "encouraging".
"Across Bedfordshire, we're hearing from businesses that they are becoming more and more positive about the future," he said.
"We're seeing fewer failures, with many businesses maintaining a steady path."
'Significant growth'
The research suggested there was a high proportion of high growth "champion" businesses in the town which have the potential to prosper in the current financial and economic climate.
The businesses were judged as displaying a number of characteristics which could lead to significant growth in the future.
These included companies less than 10 years old and with fewer than 50 employees, firms with directors with entrepreneurial appetite, and those part of a wider corporate network.
Welwyn Hatfield also performed highly, increasing its business base from 5,930 to 6,383 - an average annual percentage increase of 3.8%.
Milton Keynes' business base increased by a lesser degree as a proportion but rose by 757 companies from 15,973 to 16,730 over the period 2010 to 2012.
The town also had the highest insolvency rate in the three counties area at 1.4%, which equates to 223 companies out of 15,973 in 2011.
Luton had an insolvency rate of 1.2% last year which equates to 112 businesses.