St Albans mayor's missed pass ends world record effort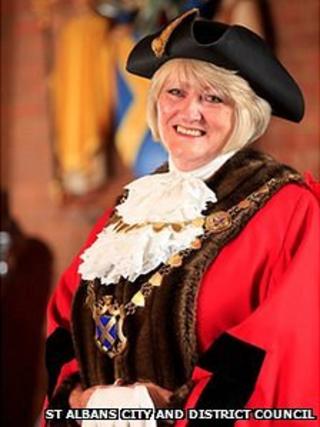 A Hertfordshire school's world record effort came to an end when the local mayor missed a football pass.
Mayor of St Albans Aislinn Lee joined students at St Columba's College in the town as they took on the world record for consecutive football passes.
But she scuffed her pass, which did not travel the required distance, after the pupils had already completed 634 passes - 77 more than the old record of 557.
"It made no relevance if I kicked it or not, even if I fluffed it," she said.
Students at the independent boys' school made their record bid as part of a drive to raise £50,000 to build a school and sports facility for the children of Korogcho, in Kenya.
Each pass had to travel 11m (36ft).
Mrs Lee said: "When they had finished the attempt, parents and everyone were invited to kick the ball," she said.
"I will own up and say even if I had Wayne Rooney's boots with his feet in them, I would still not be able to kick a ball.
"It wasn't going to make a difference - I wouldn't have put anything like that at risk."
One student tweeted after the misplaced pass: "So two boys in crutches could kick the ball the distance, but the Mayor of St.Albans couldn't... #SomeonsNotGettingMyVote."
"People did boo but it wasn't malicious," Mrs Lee said. "Boys will be boys and one of them tweeted.
"But if I thought there would be negative consequences, I would never have done it."
'Good sport'
David Buxton, college headmaster, said spectators had been asked to take part towards the end of the challenge after they ran out of official kickers.
"The mayor was a good sport and attempted to have a go at kicking the ball herself.
"As the ball didn't quite reach the distance, people reacted to it but it certainly wasn't booing against the mayor.
"There was a very good atmosphere on the day."
The attempt has yet to be officially verified by the Guinness Book of Records.