Leanna Shuttleworth to climb two mountains in 24 hours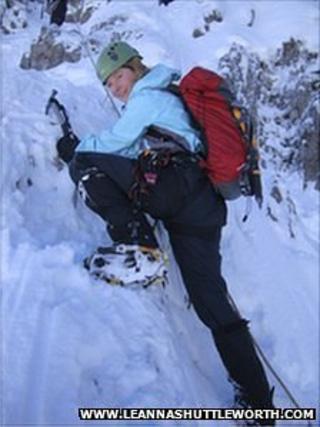 A Buckinghamshire-born 18-year-old hopes to break a world record by becoming the first woman to climb two mountains in 24 hours.
Leanna Shuttleworth will attempt to climb Mount Everest and Mount Lhotse, between China and Nepal, back to back and in record time next month.
Once she reaches the Everest summit, she will become the youngest British woman to complete the Seven Summits Challenge (SSC).
She has been climbing for four years.
Ms Shuttleworth, who was born in Buckinghamshire but now lives in Dubai, is already the youngest British woman to successfully reach Antarctica's highest peak.
She also holds the record as the youngest British woman to scale the highest mountains on three continents; North America, South America and the Antarctic.
Mental challenge
As well as dealing with temperatures as low as -58°C on her climb, Ms Shuttleworth will have to carry heavy kit and battle frostbite, her spokesman said.
Ms Shuttleworth has lost two climbing friends on expeditions, one of whom died from hypothermia and another who fell during a difficult descent.
"It's going to be very challenging physically and mentally, so I've been training hard to prepare, especially for the extremely low temperatures and high altitude, where we'll need breathing apparatus," she said.
"But I am feeling confident and I really hope that my climb will encourage other young women to get involved with the sport, which is so traditionally male."
The SCC requires climbers to reach the summit of the highest mountain on each of the world's continents, including Mt Kilimanjaro, Mt Elbrus, Mt Denali, Mt Aconcagua, Mt Kosciuszko, Mt Vinson Massif and Mt Everest.
Garrett Madison, Michael Horst and Tom Halliday became the first people to climb two 8,000m peaks within 24 hours last year.
'Tough climbs'
Ms Shuttleworth, who is on a gap year before taking up a place to study veterinary science at Nottingham University next year, will be joined by her father Mark Shuttleworth in the climb.
"Women are just as capable of climbing mountains and I'm proud to be one of a number of young British women who are now active in the sport," she said.
"I also hope that my achievements might inspire someone to realise that they can achieve their dreams, however far-fetched they may seem."
Ms Shuttleworth hopes to raise money for The Vitiligo Society with her record-breaking attempt.
It is a charity which has helped her mother who suffers from the condition, which causes the loss of pigment in the skin and turns white in patches.
Mr Shuttleworth said: "I am so proud of Leanna, particularly how she has handled the physical and emotional aspects of these incredibly tough climbs.
"It is testament to her determination and positivity that she has never once given up or complained."