Injured BA stewardess Gail Ormiston-White given £280k damages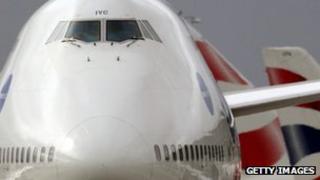 An air stewardess is to receive £280,000 damages for injuries when a metal canister fell on to her head on an aircraft at Heathrow Airport.
Gail Ormiston-White, 42, from Marlow, Buckinghamshire, has been unable to work since being injured in July 2008.
The High Court was told she suffered "neurological consequences" from the blow to the back of her head.
Her employer British Airways settled the claim on Monday before Mr Justice MacDuff decided the issue at the court.
Her counsel, Freya Newbery, alleged that British Airways was negligent or in breach of its statutory duty concerning health and safety.
Before Mr Justice MacDuff was able to decide the contested issue of liability, Ms Newbery told him the case had settled and Mrs Ormiston-White was to receive £280,000 in compensation plus costs.
'Glad it's over'
The court had heard Mrs Ormiston-White had gone to the galley to fetch water from a metal canister for passengers on a delayed flight at Heathrow Airport.
However, another canister containing dry ice had been placed in front of it in the overhead storage.
When she moved the ice canister to reach the one she needed, some ice fell to the floor.
Then, the canister itself overbalanced and tumbled on to her head as she bent down to pick up the ice.
After the brief hearing, Mrs Ormiston-White said: "I'm just glad it's all over."