Water restrictions force Luton town centre fountain turn-off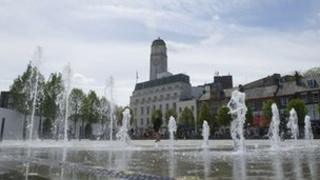 The water feature in Luton town centre will be switched off on Thursday until further notice.
Luton Borough Council said the fountains in St George's Square will be turned off to comply with restrictions concerning the use of water.
Water company Veolia is among a number of companies introducing restrictions on the use of ornamental fountains.
Councillor Roy Davis described the move as "frustrating" but said it was seen as "essential" in the present climate.
"The water feature is a focal point of the square, especially in warmer weather, and a popular paddling area for young children in particular," he said.
"This announcement will be frustrating for parents but it is essential that the council complies with the restrictions as we all try to conserve water in the coming months."