Aylesbury woman calls for more money for stillbirth research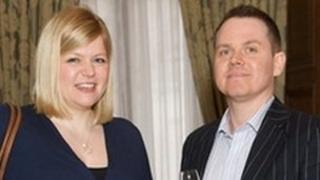 A Buckinghamshire woman who suffered two stillbirths and two miscarriages in just over a year has called for more money to research the causes.
Claire Duggan, 35, from Aylesbury, said: "There are hundreds of stillbirths and miscarriages every month and it's not really talked about."
Every day in Britain, about 315 women experience a miscarriage, approximately 151 babies are born prematurely and 10 babies are stillborn, according to baby charity Tommy's, which funds research into the causes and prevention of miscarriage, premature birth and stillbirth.
"If there was that amount of any other group of people dying per day there would be a national scandal," added Mrs Duggan.
"It's a false economy not to investigate these things further, if you put more money into research then they won't use so many NHS resources."
'Kind of mission'
Claire and Jason Duggan's first son, Rory, was stillborn at 21 weeks in July 2009, which Mrs Duggan describes as "a long and difficult experience".
After a miscarriage in September 2009, Mrs Duggan fell pregnant for the third time that October, but sadly in April 2010 their second son Milo was stillborn at 28 weeks.
At the time there was no real explanation why, other than both babies were quite small for the gestation time and there appeared to be small blood clots in the placenta.
Mrs Duggan miscarried again in July 2010, but said that the only way she could work through her grief was to keep trying and she was on a "kind of mission".
"I had a real drive, I couldn't stop myself carrying on, it was like I couldn't waste any opportunity to get pregnant," she explained.
"There were times when we probably shouldn't have been trying, as even though physically I was fine, the doctors said that mentally I needed time to recover.
"But I thought that if I didn't carry on, everything I had gone through wouldn't have been worth it."
She said that people do not necessarily understand how difficult it can be for someone who has gone through this trauma.
"You are mourning the loss of your hopes and dreams and also of your innocence [about these things]," she said.
"[Before it happened to me] I thought that stillbirths only happened in the 19th Century."
'Our miracle'
Eventually, the Duggans "lost confidence" in the NHS and spent £10,000 on private consultants, but said they "would have paid anything".
It was discovered her immune system was so robust, that it was thought her body was rejecting her husband's DNA.
After undergoing a controversial steroid treatment, which reduced her immune system, Claire and Jason's third son Finlay was successfully delivered at 38 weeks in April 2011, at the Silver Star Unit, part of the John Radcliffe Hospital Maternity Unit.
"He weighed 7lb 7oz and came out screaming, it was an amazing moment," she said.
"Finn is our miracle."
'Never questioned'
Throughout the journey, Mrs Duggan has been supported by husband Jason, 42, whose role was recently recognised when he won The Tommy's and Philips Avent Angel Award, which celebrates someone who has been supportive through a parenting or pregnancy-related problem.
"[Men] get forgotten," said Mrs Duggan, explaining why she nominated him.
"But I can't imagine watching someone that I love go through this and not being able to help or take the pain away. I think it must be worse.
"But Jason never once said we couldn't try again.
"People always said how brave I was but it was a two-way street, they were his babies too and he just said whatever you want to do, I'll do it."
Mr Duggan said he was "very honoured" to receive the recognition, but that the "real angels" were their two previous sons.
"Our beautiful boys Rory and Milo taught the doctors all they needed to know so that Claire and I could be safely guided through our pregnancy with Finlay," he said.
"Without constant research and organisations such as Tommy's we may not have had the knowledge needed to get the treatment required."
Future pregnancies
After all she has been through, Claire is cautious but realistic about any future pregnancies.
"After our first little boy died I couldn't enjoy a single second of my other pregnancies, but my pregnancy with Finlay was actually textbook and there was really no need to worry, but I did all the time," she said.
"I would like another child, even though the thought of it is terrifying, but if I didn't try I wouldn't know.
"But if Finlay is our only child then he is enough, he makes everything worthwhile."