Bletchley Park's derelict huts captured in Station X exhibition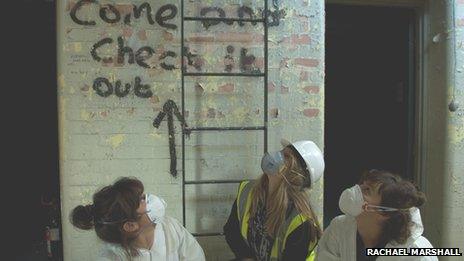 In some of the derelict buildings at Bletchley Park, it looks like the World War II codebreakers have just downed tools and left.
A rusty coat hanger swings on a hook with a name scrawled on it and diagrams lie in a mould-covered file.
Damp-ridden and vandalised, other rooms show what happens when nature is left to its own devices in a building for decades.
These neglected buildings will soon be restored and added to the existing museum which tells the story of the Government Code and Cypher School which broke the German Enigma codes.
To preserve the unique sights and sounds which are usually inaccessible to the public, and which will be lost after the renovations, four artists were granted special access.
Multi-sensory interpretation
Installation artist Maya Ramsay, sound artist Caroline Devine, photographer Rachael Marshall and film-maker Luke Williams have spent months documenting the visual and aural histories imbued in the fabric of the buildings and trying to replicate the experience.
They have lifted rust-covered surfaces from walls, recorded the squawking of pigeons and other sounds from inside the decaying buildings, and those that come from outside like the rumble of trains from the nearby West Coast line.
The result is a multi-sensory interpretation of Bletchley Park, otherwise known as Station X, which can be seen at MK Gallery's Project Space during May.
It is not only a lasting record of the buildings as they are now, but also shows how its history remains.
"It's about how histories are imbued in the buildings visually, the human marks that have been taking place over decades and decades, and how it all just carries on really," explained fine artist Maya Ramsay.
She spent months looking for things which reflected the buildings' history, and lifted surfaces by painting layers of a glue-like substance over them and peeling it off with a scalpel.
"My work generally references war and its effect on civilians so I was looking for marks that would relate to that, such as something which could look like a blood splatter or shrapnel hitting a wall," she said.
"I worked on a wall where the rain had been coming in through the roof and rust had been pouring down the wall which looked a bit gruesome and a bit unnerving - the surfaces just looked like they had been through trauma."
Photographer Rachael Marshall had originally been documenting the buildings for the architects doing the renovations.
After completing their work for the day she said she would then "rush round and see where the building took me", looking at geometry, light and surfaces and other tiny details.
"Quite a lot of the photos involve pigeons and they are very important to the building," she explained.
"Carrier pigeons were used a great deal during the war to carry codes.
"They are now the most evident occupants of the blocks, there are a lot of bodies around and it's quite sad that they used to have a very important role and now they are quite sickly and dying. It's very much a link back to the past."
Caroline Devine collected sounds listening out for rhythms and tones in the surfaces.
"Initially I made hours and hours of recordings of very little really, a lot of them near silence," she said.
However, she said that this silence links to the past.
Some 11,000 people worked in secret at Bletchley Park during World War II and were sworn to secrecy for the following 30 years.
"The main presence in there generally is the silence, so of course you make those associations," Devine said.
As a nod to the covert nature of their work, she also recorded electro magnetic signals.
"They are in the air around us all the time but you can't hear them so I recorded them with a receiver to find the covert signals and bring them out. That was about really trying to get under the surface of things."
Station X is at the MK Gallery Project Space until 27 May.
Related Internet Links
The BBC is not responsible for the content of external sites.