Jasmine Hughes death: Toddler had 'rare disease'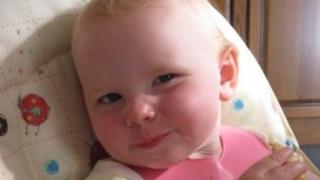 A toddler who died from a rare neurological disease might not have been saved by earlier hospital assessment, a coroner has said.
Jasmine Hughes, from Hitchin, Hertfordshire, died in February 2011.
She was cared for at Stevenage's Lister Hospital and London's Great Ormond Street after being diagnosed with Acute Disseminated Encephalomyelitis.
In a narrative verdict, Dr Shirley Radcliffe recorded death from a disease with "no definitive treatment".
"It is not possible to say if an earlier assessment or treatment would have altered the outcome," she said.
Jasmine, aged 20 months, was taken to the Lister Hospital on 13 January and died at Great Ormond Street Children's Hospital from Acute Disseminated Encephalomyelitis (ADEM), a neurological disorder, on 15 February 2011.
'Lack or urgency'
Evidence presented at the inquest showed the care that Jasmine received had been "fragmented" but there was no clear evidence that earlier assessment would have saved the toddler's life.
The court heard evidence from her mother, Joanne Hughes, on what she deemed to be an extreme lack of urgency to diagnose her daughter's condition.
She said both the Lister Hospital and Great Ormond Street did not seem to know what the best course of action would be and repeatedly delayed various investigations.
However, Dr Radcliffe said the symptoms of the disease "had been presented in an unusual manner" for which there is no definitive treatment.
In the pathologist's evidence, the court heard that a rare post viral condition which caused the brain to swell with such severity that the spinal chord compressed into itself, causing the girl's death.
After the verdict, Mrs Hughes said she would now never know whether earlier intervention would have altered the outcome but it had been recognised that her concerns about her daughter's deterioration were not communicated properly.
'Very sad case'
"My feeling is that parental concerns about their children are not being communicated effectively amongst the healthcare professionals or being given the weight of consideration that I feel they should be and that is something that I want to change in the future," she said.
Consultant paediatrician at the Lister Hospital Dr Andrew Raffles said it had been a "very sad case".
"As a result of finding one or two areas where we could have done better in Jasmine's care, we have analysed these and are putting change in process," he said.
A statement from the East and North Hertfordshire NHS Trust said: "In delivering her verdict, the coroner was clear that Jasmine's death was from a natural disease that presented itself in a highly unusual way.
"It was also, as the inquest heard, a condition for which no curative treatment exists.
"We would like, once again, to express our deepest sympathy to Jasmine's family for their loss."