Buckinghamshire County Council approves Calvert incinerator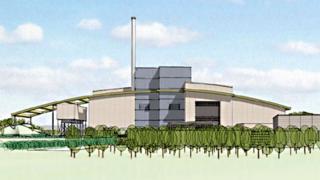 Plans for a energy-from-waste incinerator in Buckinghamshire have been approved.
The county council's development control committee passed the scheme for the plant at Calvert near Aylesbury.
Objectors had said a similar plant was planned for Stewartby in Bedfordshire and there was no need for the county to have its own facility.
But councillors gave permission for the development by seven votes to two after a two-day meeting.
Buckinghamshire's plan was submitted in late 2010 but met opposition from district councils and residents.
'Difficult decision'
The plant will treat up to 300,000 tonnes of waste from Buckinghamshire residents and businesses each year, though much of its raw material could also come from further afield.
Christopher Prideaux, who lives in nearby Quainton, said he was saddened by the decision.
"It will be harmful to an extremely peaceful and quiet corner," he said.
David Polhill, chairman of Buckinghamshire County Council, said the committee had looked at health, environment and transport issues before making their decision.
"The application for this energy from waste facility must rate as the most difficult planning decision this committee has ever had to deal with," he said.
"There has been a great deal of interest in this proposal and it is encouraging to see such a good number of the public here."
'Create jobs'
Mr Polhill said more than 50 conditions and amendments had been made to the plans before the move was approved on Friday.
Waste Recycling Group (WRG), the company behind the incinerator, said the facility would generate enough power to supply the energy needs of 36,000 homes and would save taxpayers money.
John Plant, on behalf of WRG, said the new plant would create about 300 temporary jobs during the three-year construction and 40 permanent skilled jobs.
"This state-of-the-art residual waste treatment infrastructure will end Buckinghamshire's reliance on unsustainable and costly landfill," he said.