EDL and UAF banned from Luton town centre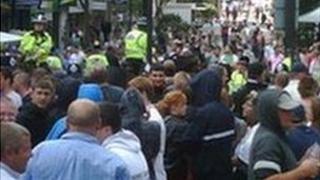 Two rival protests planned for Luton on 5 May are to be directed away from the town centre.
Bedfordshire Police said the English Defence League (EDL), which was founded in the town, and Unite Against Fascism would not be allowed in the main shopping area.
Businesses have complained previous protests have damaged takings.
Assistant Chief Constable Andrew Richer said the groups would gather in different parts of the town.
He added: "The restrictions we are imposing are designed to prevent serious disruption to the normal life of the community on a bank holiday weekend.
"The plan is that Unite Against Fascism will gather in Wardown Park.
"We are still trying to negotiate as to precisely where their procession will take them but it will not go into St George's Square and the immediate town centre area around the Mall.
'Tough climate'
"The plan for EDL is that they will gather in the Park Street area and have a procession moving down towards Park Street and Church Street but again they will not be allowed into the immediate town centre.
"We are making it clear we will impose restrictions and conditions on the protests if we can't agree a memorandum of understanding."
Hazel Simmons, leader of the Labour-controlled Luton Council, said: "Recent conversations with many people in Luton conveyed the impact of reduced business and disruption to our town centre caused by previous EDL demonstrations.
"It is clear the majority of people in Luton do not want the EDL or any other protest group causing this sort of disruption again.
"This is a tough economic climate and we should support our businesses so they can trade as normal over the Bank Holiday weekend."
Weyman Bennett, from Luton Unite Against Fascism, said that the town should be kept open so that the group could march peacefully and demonstrate they were in the majority.
He said: "We are the people of Luton and it's a big mistake to prevent us from assembling peacefully."
Tommy Robinson, leader of the EDL, said the ban had nothing to do with the economy and the group was suffering discrimination.
"Our protest is against Luton Borough Council and we want to march peacefully through St George's Square and around the town hall but we will do what the police tell us.
"The Muslims were able to march bare-chested through the town when they held a demonstration, but now because of a counter march by UAF the council has surrendered and denied Lutonian men and women access to our own town centre."