Thousands expected as Milton Keynes hosts its first full marathon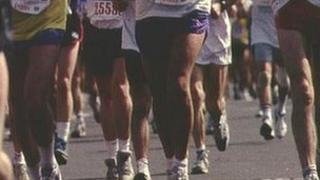 More than 4000 runners will take to the streets of Milton Keynes on Sunday as the town hosts its first full marathon.
The event will start and finish at Stadium:MK in Bletchley and a number of road closures will be in place.
Race organiser Andrew Hully said: "There are no major roads being closed so I don't think it will cause any major problems."
Entrants will use the Redways, the town's red-surfaced pathways, and run around lakes and the Grand Union Canal.
Billed as the "Green Marathon", organisers have called the event "a city marathon with a difference" because of the 4,500 acres of green areas within the town's boundary.
'Unique race'
Race organiser Andrew Hully said: "Milton Keynes is unique for a race like this because of the Redways, parks and lakes so it's going to be so different from any other road marathon and I think it's going to be great for all the runners.
"We also want as many spectators out on the course as we can get, to make it a really good day for Milton Keynes."
Town centre roads that will be closed to traffic at some point during the day include Simpson Road and Breckland in Linford Wood and various junctions along V8 Marlborough Street and V11 Tongwell Street.
"The first mile is in Saxon Street and that is going to be closed all day and then a lot of the minor roads the runners cross will be closed just while the runners are going past," said Mr Hully.