Milton Keynes' first marathon hailed a success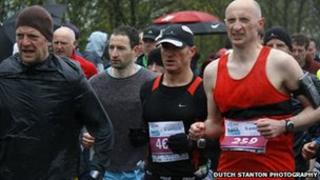 Organisers of the first Milton Keynes marathon have hailed the event a success, despite difficult weather conditions.
More than 3,000 runners took part despite some flooding at Stadium:MK where the race started and finished.
Heavy rain also caused flooding on part of the route which meant a last-minute detour had to be organised.
Race director Andrew Hully said: "We were thinking on our feet but we did it. It was fantastic."
Mr Hully said: "The spirit and determination shown by runners, volunteers and spectators has been truly amazing.
"Their positive attitude filled me with admiration and made the day great."
The race, which was started by Olympic marathon runner and Commonwealth Games medallist Liz Yelling, was won by Dave Mitchinson, of Mizuno Race Team, in two hours 41 minutes and 54 seconds.
Yvette Grice was first woman home in three hours 23 seconds.