'Forced-to-work' man feared being beaten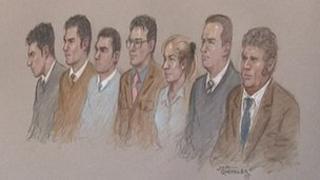 A homeless man has told a court how his head was shaved and he was forced to work for nothing by a family of travellers in Bedfordshire.
Luton Crown Court heard the man was taken to a site in Little Billington, near Leighton Buzzard, and promised £40 a day and accommodation.
But the court heard he received no money and feared being beaten if he tried to leave the site.
Seven members of the same family deny charges of servitude and forced labour.
The accused are: James John Connors, 34; Johnny Connors, 28; Tommy Connors (Junior), 26; James (Jimmy) Connors, 24; Patrick Connors, 20; Josie Connors, 30; and Tommy Connors (senior), 52.
Beating fears
The man, now aged 30, said that in March 2009 he was approached by two men with Irish accents, one of whom was Patrick Connors.
He agreed to move to the Green Acres site where he worked for a block paving business but received no money.
The man told the court: "Paddy said not to talk about money. He said: 'If you talk about money I warned you would get a slap.'
"Once I had been hit I knew the rules and never got hit again."
Asked what would have happened if he had walked off down the lane, he said: "If we did and we were caught we would get a severe beating from Paddy or his father."
He said he was moved to work at other sites at Bridlington in East Yorkshire and Cleethorpes.
Under cross examination by Paul Crampin, for Patrick Connors, the man denied he had burnt his own documents when he arrived at the site because he wanted to start a new life, and claimed instead that this was done by one of the workers.
The court was told the man had left Portugal in December 2008 after falling out with his parents and being involved in a "few crimes."
The case continues.