Hertfordshire County Show gets Queen's permission to re-name arena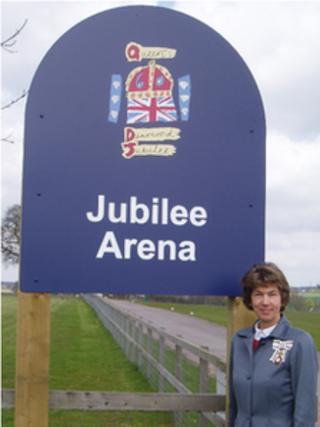 The annual Hertfordshire County Show has received permission from the Queen to change the name of its main arena to celebrate her 60-year reign.
After a six month application process, the Grand Ring has been re-named the Queen's Diamond Jubilee Arena.
The Hertfordshire Agricultural Society believes it is the only county show in the UK to have this approval.
Show secretary, Mike Harman, said: "It's our way of saying 'thank-you' and recognising her 60-year reign."
The Queen's Diamond Jubilee Arena is the show's main display ring, housing horse competitions, farming displays and military bands, as well as other attractions.
'Fully supported'
Mr Harman said they applied to use the Queen's name because it "seemed appropriate" for the largest community event in Hertfordshire to ask.
Organisers were grilled about how they wanted to use it before it was finally approved.
"They sent us a whole series of questions such as where we were putting the arena, what size it would be and what would be near it etc," said Mr Harman.
"It was fully supported by this year's show president Lady Verulam, Lord Lieutenant of Hertfordshire, who is the Queen's representative in the county so I think that went in our favour."
Mr Harman added that the organisers were delighted that there would now be a permanent tribute to the Queen at the show for future generations.
"The Herts Show has been going since 1801, changing the name of its main arena means that the name will effectively be here for the next 200 years as well," he said.