Potters Bar rail crash 10th anniversary marked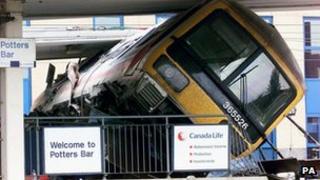 The 10th anniversary of the Potters Bar rail crash has been marked by memorial services in Hertfordshire.
Seven people, six of them passengers, were killed when a London to King's Lynn train derailed at a faulty set of points on 10 May 2002.
This first service included a minute's silence at 12:56 BST, the time of the accident, at a memorial garden close to the station.
A memorial service followed at our Our Lady and St Vincent Church.
The six passengers killed on the West Anglia Great Northern express were in the train's fourth carriage which became airborne after derailing and ended up wedged under the canopy on a platform at Potters Bar station.
The seventh victim, Agnes Quinlivan, 80, was killed by falling debris as she walked near the station.
'Safe as ever'
Rail maintenance service Jarvis was responsible for the section of track at Potters Bar while Railtrack had overall network-wide responsibility.
Network Rail took over from Railtrack later in 2002 and was fined £3m in May 2011, having pleaded guilty at St Albans Crown Court to breaching health and safety regulations.
The National Union of Rail, Maritime and Transport Workers (RMT) has called the anniversary a "wake-up call" to the government to look again at proposed cost-cutting measures on the railways and warned that similar accidents would occur if they were introduced.
Union leader Bob Crow said: "If profits are the motive then repairs and maintenance work doesn't get done because people want to maximise returns for shareholders.
"This is what happened in the run-up to previous tragedies."
Rail Minister Theresa Villiers said the railways were "as safe as they have ever been" and that inefficiencies could be eliminated without jeopardising safety.