Servitude accused: Family leader 'good in his own way'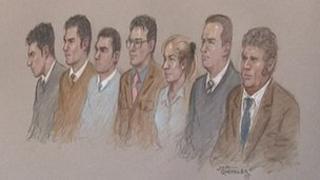 The head of a traveller family facing forced labour charges in Bedfordshire was a "good man in his own way", Luton Crown Court has been told.
A man who said he worked for the Connors at Little Billington for seven years said Tommy Connors Sr would "kick you...one day and hug you the next".
The man was found by police when they raided the Green Acres site near Leighton Buzzard on 11 September 2011.
Seven Connors family members deny charges of servitude and forced labour.
The accused are: James John Connors, 34; Johnny Connors, 28; Tommy Connors (Jr), 26; James (Jimmy) Connors, 24; Patrick Connors, 20; Josie Connors, 30; and Tommy Connors (Sr), 52.
They allegedly controlled and exploited eight different people to make large amounts of money.
'Suffering from scurvy'
Earlier the court heard how the alleged victim had been offered work and accommodation by Tommy Connors Sr when he was on the streets of Stoke in 2004.
When examined by a doctor he was found to have a fracture of a vertebra, old fractures to five ribs and old injuries to his right fibula.
A scan also revealed he was suffering from low bone density with a resulting increased risk of fracture.
When assessed by a dietician he was also found to be suffering from scurvy and at medium risk of malnutrition.
The court heard that after accepting the work, the man was taken to a travellers site in Derby where there were six or seven other workers.
After that it was said he went to Green Acres and was told his work would include paving, tarmacking and general brickwork. When he was not working he said he cleaned the yards and trailers at Green Acres.
The man said he was never paid and stopped asking for money, but said that as long as he got food and tobacco he was not bothered.
He said he had never tried to leave and that he was not aware of any other workers being paid.
'Decent living conditions'
Under cross examination by Lewis Power QC, defending, the man said there were cooking facilities, a microwave, a spice rack, kettle and fridge.
Mr Power said: "There were all mod cons?" The man agreed that he had decent living conditions.
Earlier the jury was played a series of recorded interviews the man made with Bedfordshire Police.
Asked about Tommy Connors Sr, he said: "In one way I was scared. I was scared of the sons. Pa was a good man in his own way then he wasn't in another.
"One day he would kick you...The next day he was hugging you. The next day he was kicking you...again."
During police interviews Tommy Connors Sr is alleged to have said the man had been paid £50 to £60 a day, sometimes less, sometimes more.
The case continues.