Milton Keynes Hospital now 'meeting paediatric standards'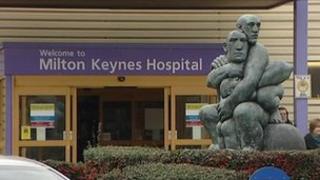 Milton Keynes Hospital's paediatric unit is now "meeting essential standards", says the Care Quality Commission (CQC).
The regulator had criticised the unit after an inspection in July 2011.
The CQC said there was no dedicated high dependency unit and not all staff treating children were trained to a high enough level.
Improvements include a dedicated children's accident and emergency (A&E) unit and more staff training.
Compliance inspectors from the CQC had made an unannounced visit to the hospital in July 2011 after a coroner called for an investigation at the inquest of 13-month-old Calvin Aucock in June.
He had been admitted to the A&E unit and then the paediatric ward in November 2010 after suffering from severe dehydration.
Staff failed to diagnose his condition and he suffered a heart attack.
More training
After the July 2011 inspection, the CQC wanted the hospital to look at staff training and to avoid treating young teenagers on adult wards.
It also said that children who attended the A&E department were not always cared for by nursing staff with a children's nurse qualification.
A children's A&E opened in February 2012 and all children up to their 16th birthday have been cared for on children's wards since November 2011.
Two new beds specifically for high-dependency children were set up in October 2011.
Ten new nurses have been recruited, ensuring the hospital has one member of staff for every two high-dependency children and other staff have been given more training.
The inspectors said the hospital was now "meeting all the essential standards of quality and safety".
Director of nursing Tony Halton said: "Of course it is important that the CQC recognises that everything is being done properly, so we are very happy with today's announcement, but what makes us really happy is knowing we are giving our young patients the service they want and need."