CCTV released after Wenlok Jug theft in Luton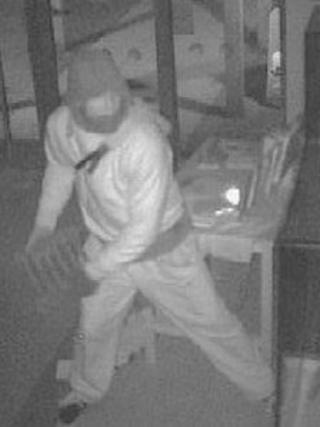 Police have released CCTV pictures of a man smashing his way into a display cabinet containing a valuable medieval treasure.
The Wenlok Jug was stolen between 23:00 and 23:25 BST on 12 May from the Stockwood Discovery Centre in Luton.
The bronze vessel last sold for £750,000 and is a rare example of metalwork associated with royalty from the 1400s.
Museum director Karen Perkins called the theft "extremely serious".
The jug is 31.5cm in height, weighs 6.1kgs and is decorated with coats of arms, badges and is inscribed with the words "My Lord Wenlok".
It is thought it was made for either William Wenlock, who died in 1391 and was canon of St Paul's Cathedral, or his great-nephew John, the first Lord Wenlock, who was a major figure in the 15th Century.
The museum said it would be reviewing security.