Pinewood Studios to consult on future development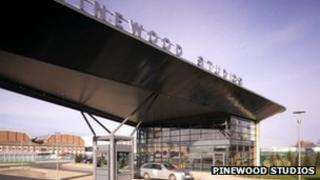 Pinewood Studios is starting talks with film producers, businesses and community groups about its future, after expansion plans were rejected.
Bosses said the move was intended to stop the Buckinghamshire studios falling behind competitors.
The government rejected its £200m Project Pinewood plan in January. Pinewood said certainty about development was now "critical".
The consultation will cover the existing site and adjacent land.
A statement from Pinewood said: "Without major investment Pinewood Studios cannot remain globally competitive and respond to the changing needs and ever increasing demands of the screen and digital industries."
The studios, which have been operating for more than 75 years, have been the location for Bond films including The Spy Who Loved Me, A View To A Kill and Quantum Of Solace.
The latest Bond film, Skyfall, is currently being filmed there, as well as the movie version of Les Miserables starring Hugh Jackman, Russell Crowe and Anne Hathaway.
It is estimated that on average some 800 people are likely to be involved in film production on the site every day, although when large-scale films are being made there may be as many as 1,800 people employed, from extras to carpenters.
'Equal footing'
In January, the Department for Communities and Local Government upheld a local council rejection for the studio's Project Pinewood scheme.
This would have seen a 100-acre set built in Iver Heath next to the studios' current site.
In its judgement the government said the project would be "inappropriate in the green belt".
Following consultation Pinewood aims to produce a 20-year plan, which will take into account the need for stage and studio space, future innovation and technology and television broadcast facilities.
Chief Executive Ivan Dunleavy said: "We must respond effectively to the growing demand and compete on an equal footing, otherwise Pinewood will fall behind its international competitors."