St Albans van driver stabbing: Husband and wife wanted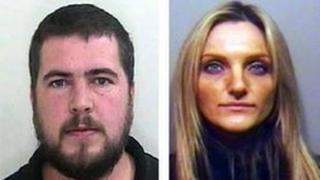 A husband and wife have been named by police as suspects in the stabbing of a van driver in Hertfordshire.
A man in his 30s suffered a serious wound to the chest after he returned to his parked van on Wycombe Way, St Albans, at 16:15 BST on 11 May.
He was treated in hospital and is now recovering at home.
Police believe it was a targeted attack and want to speak to Frank Varey, 32, of Lancashire, and his 29-year-old wife Louise, of Caddington, near Luton.
She is also known as Louise Best or Julie Best.
Mr Varey is thought to have dyed his hair blond in the week before the incident, but may have changed his hair colour and facial hair again since, a police spokesman added.
His wife is believed to have had long straight black hair on 11 May.
Search for car
The couple left the scene in a silver Vauxhall Insignia, registration LM12 OJG.
Det Sgt Dan Stoddart said: "We are now in a position to name the suspects we want to speak with.
"We are appealing to members of the public who see Frank or Louise to contact us with information on their whereabouts.
"They have links to Blackburn, Hampshire and Dorset.
"I would also like to trace the silver Vauxhall Insignia and speak with anyone who was in the area of The Quadrant in St Albans at the time."