Buckinghamshire projects bid for share of £15,000 fund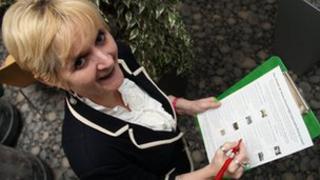 People in Buckinghamshire are being asked to vote on which community projects should get a share of £15,000.
In a poll organised by the Greater Aylesbury Local Area Forum (LAF) residents will be invited to choose from eight projects.
The top three choices will get all the money they bid for, while two runners-up will share what is left.
Ballot boxes will appear in 25 local shops, surgeries, churches and community halls, and the library.
The Greater Aylesbury Local Area Forum is made up of representatives of community groups, parish, district and county councils, covering Aylesbury and neighbouring parishes.
The poll is an initiative to give residents a say in how local budgets are spent.
They will be invited to choose from projects supporting activities and facilities for young people, or reducing social isolation, which are bidding for a share of the cash, which the LAF has already earmarked for local priorities.
Chairman Mary Baldwin said all the projects met local priorities that people had identified.
A similar scheme was piloted by Wendover Local Area Forum in December 2011 which encouraged more than 300 residents to vote for their preferred projects.
The poll opens on 23 May and lasts until September and online voting is also available at Choose 4 Greater Aylesbury .