Facebook child sex abuser Ryan Chambers jailed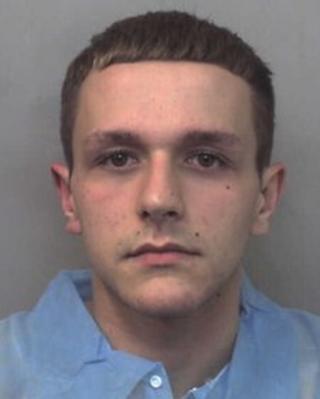 A "very dangerous and predatory" teenager who sexually abused four girls he met on Facebook has been jailed for three years and nine months.
Ryan Chambers, 19, of Milton Keynes, amassed the names and numbers of more than 1,000 girls aged 12 to 15, Aylesbury Crown Court heard.
He had denied eight counts of sexual activity with a child but was convicted in March following a trial.
He admitted four counts of possessing indecent images of children.
Thames Valley Police said its inquiry involved contacting hundreds of girls in Milton Keynes and Northamptonshire and writing to 800 parents to establish whether their child had been in contact with Chambers.
His offending stemmed from summer 2010, but officers were first alerted a year later by a mother concerned her 14-year-old daughter was being groomed over the internet.
Facebook aliases
Chambers was arrested and lists featuring more than 1,000 girls' names and mobile numbers were found at his home in Akerlea Close, Netherfield.
He was released on bail, but two weeks later police went to his home and found a 14-year-old girl who had been reported missing. She was not one of his four victims, police said.
Another search of his home uncovered more names and numbers and four indecent images of children rated at level four, five being the most serious.
He was found to have had "prolific" contact with girls and had set up 11 profiles on Facebook under variations of his name, including "Ryan Onit" and "Ryan missesyou", as well as one alias.
Det Sgt Sally Kestin said: "Ryan Chambers is a very dangerous and predatory young man who desires to groom his victims in order to sexually abuse them.
"He would use a number of profiles set up on Facebook to contact girls and request they add him as a friend.
'Ultimate aim'
"If a girl accepted his friend request he would initiate conversations with them through Facebook as a ploy to obtain their phone numbers.
"His ultimate aim was to entice them around to his home where he would encourage them to have sex with him."
Chambers was also sentenced to a sex offence prevention order, banning him from contacting anyone under 18 and from accessing social media for six years.
A Facebook spokesman said: "We work hard at Facebook to keep people safe on our service and we have developed highly sophisticated security systems aimed at preventing people from making inappropriate contact with other users.
"Sadly, a small number of determined individuals will persist in behaving illegally when using online services.
"We take a zero tolerance approach and when such illegal behaviour is detected, Facebook will offer its full co-operation to the police to ensure that these people are brought to justice as we did in the case of Mr Chambers."