Yarl's Wood appeal over inquiry into stopping protest fails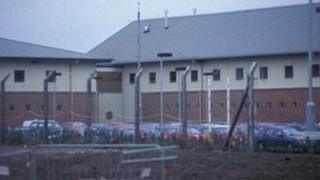 A bid to hold an inquiry into the way a protest about medical care for children was put down at Yarl's Wood immigration centre in Bedfordshire has failed.
Three senior judges blocked the bid by detainees over the June 2009 protest.
A panel of Court of Appeal judges said a UK Border Agency investigation, although not independent, was "thorough and systematic".
Authorities said they had to stop the protest but two un-named detainees claimed mothers were left distressed.
The detainees wanted the the judges to declare that ministers had acted unlawfully by failing to make arrangements for an independent inquiry.
Judges were told families at Yarl's Wood began a peaceful protest after raising concerns that child detainees were not receiving adequate medical treatment.
'Thorough and systematic'
The protest was stopped and detainees claimed to have been hurt. Mothers became "very distressed" when separated from their children, the court was told.
A UK Border Agency (UKBA) investigation unit had looked into events and concluded that "intervention was necessary", judges heard.
The two detainees argued that human rights legislation required ministers to set up an independent inquiry but the judges disagreed.
Lord Justice Pill, who heard evidence with Lord Justice Patten and Lord Justice McFarlane, said the investigation by the UK Border Agency's professional standards unit had not been "independent of government" but was "thorough and systematic".
He said "events were not such as to merit a snap independent investigation".
The detainees had appealed after failing to persuade a High Court judge to declare that ministers acted unlawfully.