Everest climber Leanna Shuttleworth reaches summit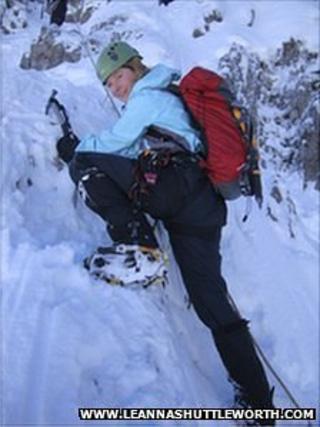 A 19-year-old has become the youngest British woman to summit Mount Everest.
Leanna Shuttleworth, originally from Buckinghamshire, has described the harrowing ascent when she passed bodies of climbers.
Many climbers turned back and extreme weather has been linked to the deaths of at least four people on the mountain in the past week.
Experienced mountaineer Alan Hinkes said people needed to be more aware of the risks of climbing Everest.
Ms Shuttleworth said: "There were casualties from the day before, which was tragic and horrendous.
"There were quite a few bodies attached to the fixed lines and we had to walk round them.
"There were a couple who were still alive.
Seven summits
"Our Sherpa helped one of the people but a couple were so far gone they didn't even know we were there. It was the most horrendous thing to see."
Ms Shuttleworth, who reached the summit with her father Mark Shuttleworth, had planned to attempt a world record, to become the first woman to climb two 8,000-metre mountains - Mt Everest and Mt Lhotse - in 24 hours.
But she said the weather had made it impossible.
On reaching the top of Everest she became the youngest British woman to have completed the Seven Summits Challenge (SSC), her spokeswoman said.
The SSC requires that climbers summit the highest mountain on each of the world's continents: Mt Kilimanjaro, Mt Elbrus, Mt Denali, Mt Aconcagua, Mt Kosciuszko, Mt Vinson Massif and Mt Everest, she said.
Ms Shuttleworth said she now planned to take a rest.
She has a place at Nottingham University to study veterinary science, although she plans to continue climbing.
Mr Hinkes, who was the first Briton to climb the world's 14 highest mountains (with peaks above 8,000m), said: "There have been bodies I have stepped over myself. A lot of them do get removed or moved off the mountain.
"You have got to keep moving or die at this extreme altitude. If someone has died, there is not much to do about it."
He said that if Ms Shuttleworth had stayed with the dying people on the slope she might have "died with them".
Mr Hinkes said the guides, who assisted one of the injured people, would know what help could be provided.
"There was nothing realistically that she could have done," he said.
Mr Hinkes said responsible firms helping people climb Everest warned people of the risks, but some people climbed the mountain without understanding all the risks.