Reward of £25,000 for recovery of stolen Wenlok Jug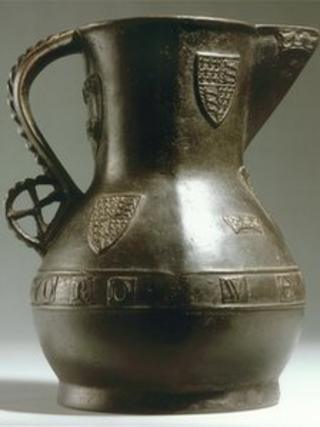 A £25,000 reward has been offered for information leading to the recovery of a medieval jug stolen from a Bedfordshire museum.
Insurance company Zurich, made the offer for the safe return of the Wenlok Jug, which was taken from the Stockwood Discovery Centre in Luton on 12 May.
The bronze creation is decorated with coats-of-arms and inscribed with the words "My Lord Wenlok."
The jug was displayed in a high security cabinet when it was stolen.
'Extremely upsetting'
Paul Redington, from Zurich, which insures the museum, said the jug was important to the museum and to the people of Luton.
Director of Museums Karen Perkins said the theft was "extremely serious and upsetting".
In 2005 the jug was nearly sold abroad, but a temporary export ban provided the opportunity for Luton Museum to raise the £750,000 needed to buy it.
It is thought the jug was made for either William Wenlock, who died in 1391 and was canon of St Paul's Cathedral, or his great-nephew John, the first Lord Wenlock, who was a major figure in the 15th Century.
Anyone with information about the theft is urged to call Bedfordshire Police.