New emergency department for Lister Hospital approved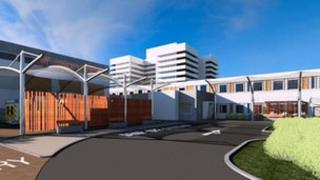 Work on a new £19m emergency department at a Hertfordshire hospital can begin following approval by the government.
The project at Stevenage's Lister Hospital is part of a £150m redevelopment programme.
The new facility will have specialist emergency and urgent care services for both adults and children and improved radiology services, including a new CT scanner.
Work is due to begin in June and be completed by the end of 2014.
The emergency department is one of 11 projects in the £75m phase four redevelopment programme for the Lister, which by 2014 will have had some £150m invested in it.
Life-saving care
When complete, it will become the main emergency and inpatient hospital for east and north Hertfordshire.
Consultant in emergency medicine, Dr Jon Baker, said the emergency department would be supported by the new A&E department being created at the Queen Elizabeth II hospital in Welwyn Garden City.
"This arrangement will ensure that those with urgent illnesses and injuries get speedy access to the care and treatment they need locally, whilst at the same time making sure that those with far more serious conditions get treated by specialist emergency teams," he said.
"The majority of people - probably at least two thirds attending the [Lister] hospital's current A&E service - will use the urgent care centre, with those needing potentially life-saving care using the department's more specialist services."