Diamond Jubilee: Celebrations continue in three counties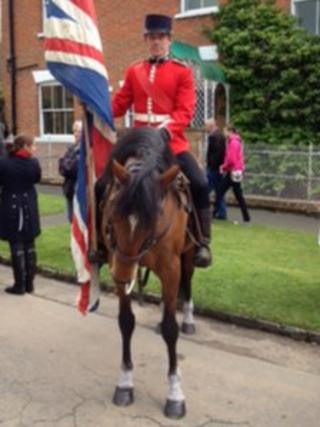 People across Bedfordshire, Buckinghamshire and Hertfordshire have continued to celebrate the Jubilee.
In Hertfordshire, a big street party in central St Albans included a showcase of music from each decade of the Queen's 60-year reign.
Joey, the original animal from the War Horse film, appeared at festivities in Mursley, Buckinghamshire.
Other events included a Diamond Jubilee Big Lunch in Sandy, Bedfordshire, for more than 150 people.
More than 100 of the guests were senior citizens and organisers said they had been overwhelmed by the response to the event at Sandy Upper School which included a film about the Queen, free food and entertainment.
Project manager Ken Lynch said: "It's the only Diamond Jubilee I and most of the people there will ever see and I wanted everyone to remember it.
"That was my main aim, for everyone to remember the event and what our Queen has done for us."
Organisers of a day of festivities in Mursley, Buckinghamshire, expected in excess of 3,000 people at its celebrations where the special guest will be village resident Joey, the original horse from Spielberg's 'War Horse'.
Beds, Herts and Bucks Jubilee pictures
The day started with the Mursley King and Queen leading a procession of floats and a line-up of vintage and classic cars, while entertainment included the Red Barrows formation wheelbarrow display team, horse stunt team the Devil's Horsemen, market stalls and fairground rides.
Illuminated stilt-walker
At a ticketed evening event more than 1,000 people will enjoy a music festival in a circus big top before an illuminated stilt-walker led the audience to watch a fire-eater light the Jubilee beacon.
Parish councillor Sandra Doherty said: "Mursley has a bit of a reputation for doing things big.
"There have always been massive parties around royal events, so we thought we'd go even bigger this time, but it's taken over a year to organise."
In Wheathampstead, Hertfordshire, events began at 13:30 BST with the public opening of the Queen Elizabeth II Diamond Jubilee Garden.
The area next to the River Lea in the village was converted from private use when its owners approached the Wheathampstead and District Preservation Society to offer it as a space for a public garden.
It has only been completed in the past two weeks as final approval for the change was only given on 15 May.
Julie Bell, from the society, said: "We knew we would never be lucky enough to have a village green but to have a public garden is just fantastic.
"It's a place where people can go to relax and see the village at its absolute best, stunning views of the village from the conservation area have been opened up that could never be seen before."
The opening was followed by a host of 1950s-themed activities, including Jubilympics and a Queen look-alike competition.
Blaze out
Town councils, companies, communities and churches will light 152 beacons across the three counties on Monday night to blaze out another celebration of the Queen's 60 years on the throne.
The counties' residents plan to light 32 in Bedfordshire, 79 in Buckinghamshire and 41 in Hertfordshire at approximately 22:00 BST.
Bedfordshire's beacons include one at the Luton Hoo estate, where the Queen and Prince Philip were once regular visitors to their friends the Wernher family.
In Milton Keynes, the mayor will unveil a new public artwork at the Belvedere in Campbell Park which will be part of the network of beacons across the country.
Commissioned by MK Gallery in collaboration with The Parks Trust, artist Liliane Lijn has created Light Pyramid, that by day appears as a 6m high pyramidal sculpture, but by night radiates light.
In Hertfordshire, a huge street party in St Albans town centre culminated with fireworks and the lighting of a beacon on top of the historic town hall.
See all the latest Diamond Jubilee news and features at bbc.co.uk/diamondjubilee